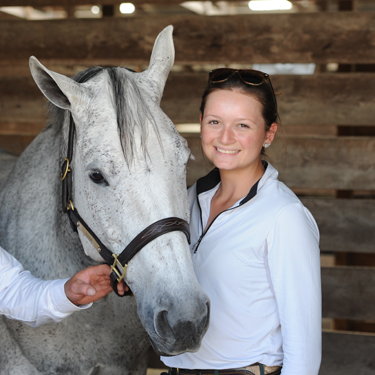 Caroline Johnson stood at the in-gate of the Dixon Oval at Devon, towel tucked in her back pocket and heart in her throat as her horse Distance trotted into the ring to show in the first year green division with Joey Barley aboard.
"It was a little surreal. Seeing her on the Jumbotron playing over the ring was cool. I thought to myself, 'She actually looks like all these other horses that are here! She fits in,'" Johnson said.
There are lots of reasons Johnson doubted that Distance might not fit in. The Irish Sport Horse mare showed in her first USEF-recognized show in October at age 10. Her purchase price was probably fractions of those of the horses she warmed up alongside at Devon. And amateur rider Johnson, from Julian, N.C., does most of the work with "Dizzy" herself. But, despite all the challenges, Distance did indeed fit in. She didn't win any ribbons, but she made Johnson and Barley proud.
"I was very happy with how she went. We wanted to have her go around, have a good experience and keep everybody happy and healthy. And we did it!" Johnson said.
"She was great," Barley said. "She went in and tried hard and made some mistakes but was good. I was extremely proud of her. She exceeded any expectations I may have had for her."
Read the rest here at The Chronicle of the Horse